PICKS

PICKS is a new offering from hugely popular Baltic brand Pergale.
The PICKS brand has been specifically designed to help the corporation enter the Western European market and is a snack consisting of nuts or berries coated in chocolate. Product range includes almonds, macadamia or hazelnuts coated in either chocolate, cinnamon or chocolate and blackcurrant powder. For those with nut allergies there is also a strawberry or cranberry option. Leaning on the guilt-free side of the snacking fence, PICKS appeals to those wanting to nibble or graze on the healthier, more nutritious option.
Having secured a listing as within Sainsbury's Future Brands the brand approached Flavor. with task of maximising the Rate of Sale in key stores as well as drive awareness, brand perception + social chatter amongst the Sainsbury's audience, to ensure the listing in Sainsbury's to continue and increase..
TARGETING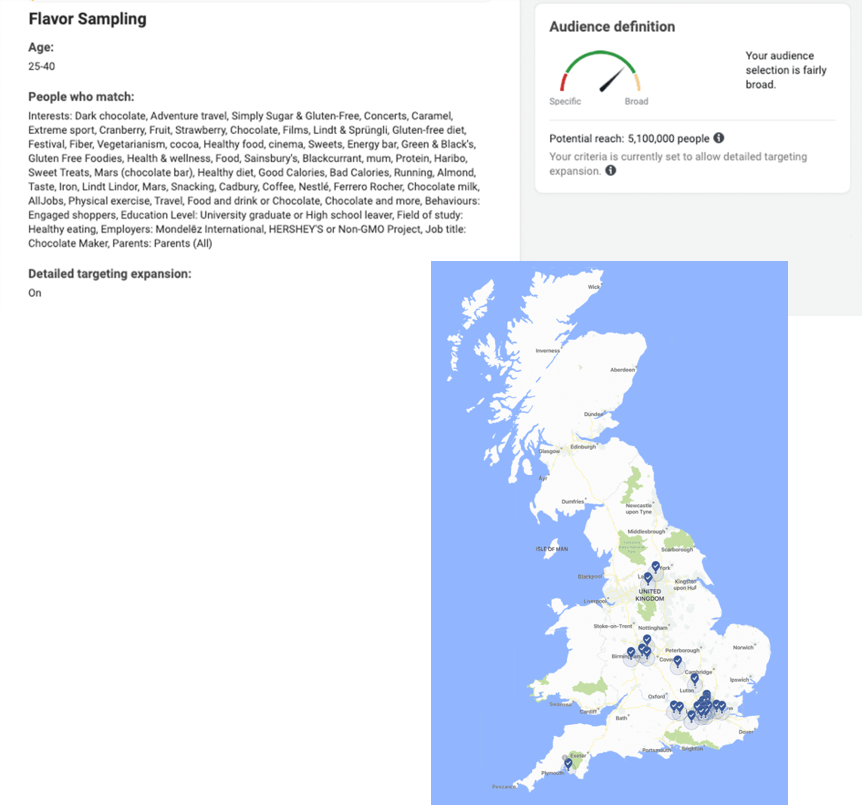 PICKS needed to target ABC1 25-40 consumers who had an interest in Snacking, Health & Wellness and were likely to shop in key Sainsbury's stores.
Flavor. used a combination of TGI, Acorn and proprietary data to identify hot-spots of PICKS' audience throughout the UK. This was cross-correlated with store data to identify 26 key Sainsbury's stores as the optimal focus for the activity.
Social ad tools were used to target the audience precisely based on demographics, likes + interests, and proximity to the three key stores.
The targeting identified a potential 5,100,000 relevant and engaged audience.
RELEVANCE

Flavor. designed, created and ran targeted social adverts and served them to PICKS's audience – giving them a chance to claim a free pack of PICKS.
Data was captured and samples were sent directly to the consumers' homes for them to enjoy, along with a discount coupon for a future purchase.
Follow up emails were sent to all claimants to encourage social engagement + drive sales through Sainsbury's stores.
The Social ad reached a hyper-targeted audience of over 25,000, with 8,166 Samples distributed to consumers' homes.
MEASUREMENT + RESULTS
Flavor's integrated measurement ran throughout the campaign to provide insight on Awareness, Perception, Recommendation, Net Promoter \Score + Sales Uplift.
Over 5,500 Sales created directly
2.5:1 Return on Investment
56.8% Likelihood to Purchase in the future
91% Described PICKS as Tasty
58% Described PICKS as Healthy
63,106 Recommendations made
182% Increase in Net Promoter Score
---
Flavor. Sampling is an Integrated Sampling Agency. We curate the perfect mix of sampling techniques to deliver optimal results for every campaign. Integrating all elements under one house to drive efficiencies in Targeting, Relevance, Measurement and ROI
We plan, execute & measure sampling campaigns built from a blend of tools, methods and techniques – including the ones mentioned in this blog:)
To find out more about Integrated Sampling or to find out more about this blog, give us a call or drop us an email at the below…
Email: [email protected]
Tel: 07977 148 784