SUQQU
SOCIAL SAMPLING CAMPAIGN
SUQQU is a luxury Japanese skincare and cosmetics brand offering a range of essentials for makeup enthusiasts looking for more premium products to incorporate into their everyday routine.
SUQQU reached out to Flavor in the hopes of developing a sampling campaign that would increase their brand awareness as well as build an audience that would enjoy the product. Alongside this, they wanted to drive direct sales through their e-commerce stores which stocked their products e.g Selfridges, Harrods and Cult Beauty.
---
TARGETING
SUQQU's targetting were primarily towards a female audience aged between 25-55 , with a heavy skew towards diverse cultures and interest in luxury cosmetic brands.
Flavor. used a combination of TGI, Acorn and proprietary data to identify hot-spots of SUQQU's audience throughout the UK, more specifically in areas within London, Birmingham and Manchester.
Social ad tools were used to target the audience precisely based on demographics, likes, interests and audience behaviours.
The targeting identified a potential reach of 5.6 million relevant and engaged audiences.
---
RELEVANCE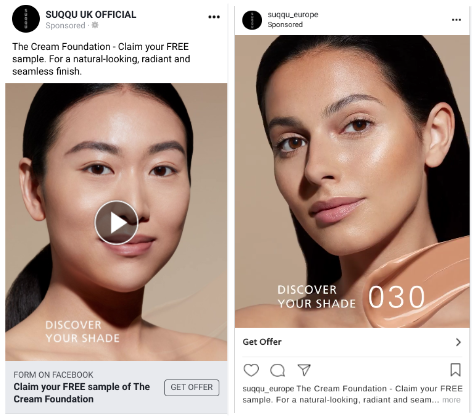 Flavor. designed, created and ran targeted social adverts and served them to SUQQU's audience – giving them a chance to claim a free sample pot of SUQQU The Cream Foundation in 2 different sample sets (Light-to-medium OR Medium-to-deep).
The Social ad reached a hyper-targeted audience where 10,000 The Cream Foundation Samples were claimed and distributed directly to consumers' homes.
Follow-up emails and measurement surveys were sent to consumers post-trial in order to maximise sales uplift and encourage product feedback.
---
MEASUREMENT + RESULTS
Flavor's integrated measurement ran throughout the campaign to provide insight on Awareness, Perception, Recommendation, Net Promoter \Score + Sales Uplift.
10,000 samples distributed via Social Sampling
74% Claimed Recommendation Rate
8.2 Overall Average Product Rating
28 Net Promoter Score
Up to £516K In Potential Sales Revenue
---
Flavor. Sampling is an Integrated Sampling Agency. We curate the perfect mix of sampling techniques to deliver optimal results for every campaign. Integrating all elements under one house to drive efficiencies in Targeting, Relevance, Measurement and ROI
We plan, execute & measure sampling campaigns built from a blend of tools, methods and techniques – including the ones mentioned in this blog:)
To find out more about Integrated Sampling or to find out more about this blog, give us a call or drop us an email at the below…
Email: [email protected]
Tel: 07977 148 784