Consumer Data Influences Sampling in Changing Retail World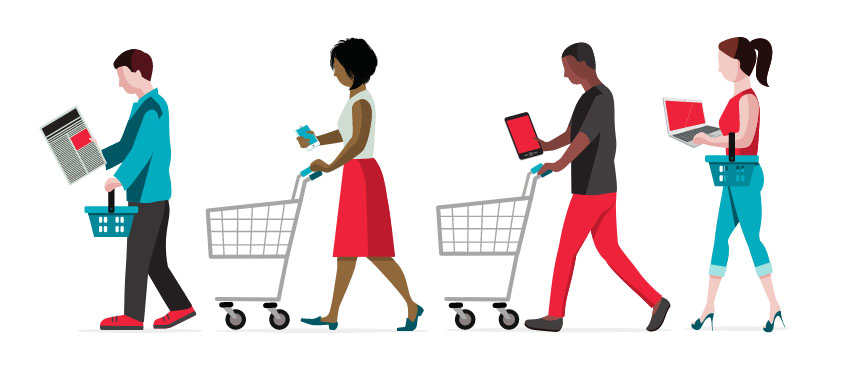 Covid + Consumer Behaviour
In late March, the retail world and how we shop was about to enter an unexpected seismic change with the introduction of lockdown measures.
The physical act of walking to the shops for a browse or a Saturday afternoon spent shopping with friends ended abruptly with the temporary closure of thousands of retail units.
The world of product sampling was also challenged with a suspension on in-store sampling and event sampling for the foreseeable future.
While most fashion retailers scrambled to make good of the shift to online shopping and still enjoy good profit turnover, supermarkets nationwide reported record-breaking sales figures.
A recent report released by Dunnhumby Media analysed consumer habits during lockdown and the subsequent role of retail media in a post-pandemic world.
The marked increase in supermarket profit is set out in the report. Globally 30% of grocery shopper said they were shopping online more whereas Tesco recorded a 100% increase in online capacity, becoming the first U.K. retailer to fulfill a million online orders in a week.
There was an increase in hand soaps and sanitizers being bought and a huge global shift to home cooking with the closure of restaurants and fast food outlets.
As life gets back to normal and retailers emerge into a changing albeit good economic forecast, product sampling will play a pivotal role in driving successful campaigns and increasing brand awareness for the better.
Marketing will now rely heavily on the strength of e-commerce sampling, subscription sampling, door drop sampling and social sampling to deliver the best results.
Going forward, the report cites a strong digital marketing strategy and its key enabler retail data as drivers of success for brands.
With an increase in online shopping and more time given to browsing online, this becomes a perfect window of opportunity for e-commerce sampling and samples in online deliveries will reach consumers in a positive frame of mind.
Data + Sampling
Every product sampling campaign that Flavor has managed has relied heavily on consumer/audience data to target a specific market.
On the online marketing side, a social sampling campaign will target consumers through popular social media channels.
Flavor knows the strength of a social sampling campaign in reaching a huge audience, driving sales, and increasing brand awareness.
Subscription sampling opens an option to a wide market of different niches, data can help a brand find a specific subscription box that is aligned with their brand and target audience. This will source new customers by providing samples of a certain product they already are likely to buy.
Data drives and heavily influences any such campaign.
We actively work with a Lithuanian chocolate brand Pergale who are introducing their PICKS range through the Sainsbury's Future Brand's initiative. The campaign is benefiting from a social sampling advert running through Facebook.
As online and retail merge in many ways, it will benefit the PICKS range to drive a targeted social sampling campaign using the relevant data regarding target audience and geographic location to Sainsbury's stores. It will also help an emerging foreign brand get a foot up on the U.K. market.
---
At Flavor, we use Social sampling as part of an integrated sampling approach to curate the mix o f sampling techniques to deliver optimal results for every campaign. We look after all sampling elements in under one roof to drive efficiencies in targeting, relevance, measurement & ROI…
If you would like to find out more about social sampling or any of our integrated sampling techniques you can get in touch richard@flavorsampling.com & 07977 148784