Welcome to the Family – Dan Manning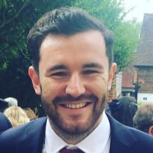 November sees exciting changes at Flavor HQ, as Dan Manning joins the tight-knit team as Account Director. Dan is a seasoned addition to the team, having sat at the helm of large-scale sampling campaigns.
With over 10 years strong experience in the experiential marketing world, Dan has been instrumental in orchestrating large-scale campaigns across Europe including Nestle, Amazon, Calvin Klein, and Coca-Cola.
Dan brings a wealth of knowledge and has broad experience in the planning, logistics & execution of large scale campaigns. He looks forward to transferring these skills to his new role, whilst eager to immerse himself in all strategic sampling techniques Flavor have to offer.
As 2021, a much-anticipated new year draws closer, we welcome Dan to the team & look forward to accelerated growth for the new year.
Below, Dan chats through his experience, what he most looks forward to in his new role and of course, his all-important "flavor".
1. What is your greatest achievement? – Running the London Marathon in 2014.
2. What has been the best sampling experience you have ever had? – I had the pleasure of working with Coca-Cola to deliver their headline sponsorship agreement at the Rugby World Cup 2015. Over the course of a gruelling 11 months planning phase, I worked closely with World Rugby, IMG, all competing stadia, fan zones and local councils to deliver a 1.5 million sample campaign. The campaign consisted of multiple tiers of experiential activity (from mass sampling to immersive brand experiences), with a UK-wide 'always on' approach to ensure Coca-Cola was at the forefront of every match and public event associated with the Rugby World Cup. To top it off, after the tournament I was fortunate to attend the World Rugby Awards and sit behind Jonny Wilkinson and the winning All Blacks team (although I was slightly worse for wear when asking Jonny Wilkinson for a selfie).
3. What are you most looking forward to about joining Flavor? – Having been within the experiential marketing world for nearly ten years, I have managed a large variety of sampling campaigns. Like at most experiential agencies, the strategies for those campaigns have usually stuck to the same traditional sampling techniques, i.e. brand to hand, guerrilla, in-store, immersive experience sampling or event sampling. What excites me about joining Flavor is that the agency offers clients a vast amount more in terms of different sampling techniques available to them, unlike rival agencies. Combined with Richard and Curtis's drive to put the power of insight data at the heart of all strategy development, they have built a highly targeted agency model that ultimately sets themselves apart from its competitors. When the opportunity to join Richard and the team came around, it was too good to turn down.
4. What else should we know about you? – I will always be a country chap at heart, but I am currently living in the city. You will often find me exploring the city, with our French bulldog called Archie, for new street food pop-ups and craft beer breweries (much to my non-craft beer drinking fiancé's dislike).
5. In the immortal words of Craig David…What is your Flavor? – Craft beer, pizza, and a custard cream (although one is never enough).
---
At Flavor, we offer an integrated sampling approach to curate the mix of sampling techniques to deliver optimal results for every campaign. We look after all product sampling elements in under one roof to drive efficiencies in targeting, relevance, measurement & ROI…
If you would like to find out more about any of our integrated sampling techniques you can get in touch richard@flavorsampling.com + 07977 148784