Welcome to the Family – Stelize Buencochillo
Flavor are continuing to grow their our Client Servicing + Project Management Team to support multiple client wins, as we continue to develop Sampling Campaigns in the UK, throughout Europe + North America.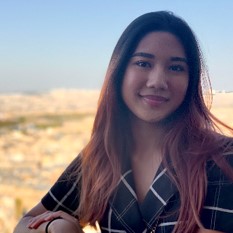 Stelize will join the Flavor Family as Marketing + Account Executive and will be involved in the smooth and efficient running of large & small scale sampling campaigns.
As part of Flavor's commitment to providing a great workplace, and investment into career development, Stelize is coming on board as part of the governments UC Kickstart Scheme – focussed on 16 to 24 year olds who are most at risk of long term unemployment in the current economical landscape…
A Law with Business Graduate, taking her first steps into the world of Marketing. Stelize's enthusiasm for the marketing industry and diligence is clear for all to see.
Stelize also embodies the entrepreneurial spirit of Flavor, having started her own custom shoe design business which is continuing to thrive!!
Stelize Buencochillo – Marketing + Account Executive
Below, we find out a bit more about Stelize as the newest member of the Flavor Team….
What's your greatest achievement?
My greatest achievement would have to be the business I launched last year which sells custom hand-painted footwear. I have always had an artistic side but it really helped in improving my creativity as well as learning how to run a business from scratch. I have gained plenty of satisfied and loyal customers, some of which are based in other parts of the world!
What's been the best sampling experience you've ever had?
I'm really into skincare and cosmetics, so the best sampling experience I've had was gaining multiple skincare and makeup samples in-store.
I remember when Clinique (a popular make-up brand) would offer a free makeup bag full of samples after purchasing a certain amount of their products.
I also love to try food and drink samples when I'm out and about where I'd find free samples being offered to by passers. It really is one of the best methods in attracting potential customers!
What are you most looking forward to about joining Flavor?
This is my first position working in Marketing or Sampling, so I'm really looking forward to learning more about the sampling processes and Flavor as a whole.
They have worked with plenty of exciting brands that I am also looking forward to working with!
The team are all evidently passionate and skilled in their fields of expertise which is inspiring to look up to, especially for someone such as myself who is particularly new to the industry.
What else should we know about you?
I am a massive foodie and I love trying out different restaurants and cuisines. I also love to travel and I am secretly a nerd for all the Marvel films – although it's not really much of a secret.
In the immortal words of Craig David…what's your Flavor?
I only have two words: red wine.
---
At Flavor, we offer an integrated sampling approach to curate the mix of sampling techniques to deliver optimal results for every campaign. We look after all product sampling elements in under one roof to drive efficiencies in targeting, relevance, measurement & ROI…
If you would like to find out more about any of our integrated sampling techniques you can get in touch richard@flavorsampling.com + 07977 148784