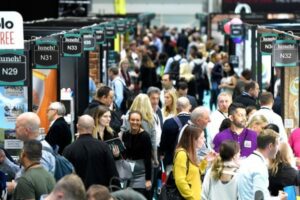 This week hundreds of upcoming and growing food and drink brands will have the chance to show their wears at one of the most prodigious FMCG trade shows in Europe.
Lunch! boasts the opportunity for burgeoning entrepreneurs and eager trade managers to showcase their products with the dangling carrot of game-changing shelf space and firm distributor contracts as the ultimate goal.
But in this uber-competitive and noisy landscape, how do startups stand out against established players, and how should product sampling be used to help seal those deals…
---
At Flavor. we provide an integrated sampling approach, of which trade shows and events are an important element.
We've outlined our 3 Top Tips to help brands use product sampling at Lunch!
1. Get Noticed Before the Show
Rather than rely on the dream contact stumbling onto your stand as one of a row of delicious opportunities, make sure that you target & set up meetings ahead of the show.
This can be made even more effective and impactful through the use of targeted samples direct to the contact.
At Flavor. we use a combination of Social Sampling, Direct Mail Sampling, and Office Sampling to help brands get noticed by key decision makers.
---
2. Standing Out
Having a great tasting product is important, but your branding is what will get you remembered by distributors,. Ultimately this, your brand message, and trust in your product will be why their customers will pick you off their shelves over the many other brands…
With this in mind, it is crucial to stand out at this show. How can you be different, and make a mark that aligns with your brand message!?
---
3. Perception
As well as distributors looking for quality products and brands that their hungry customers will devour off their shelves – they also want to have confidence in you as a company.
Whilst it is tempting to try and manage all of the sampling yourself, this could leave your business looking small fry. By using sampling specialists to manage the logistics, quality control, handing out & basic brand messaging, it will give you the capacity to have the important conversations whilst a well oiled and professional machine is whirring impressively in the background.
---
Flavor. is an Integrated Sampling Agency that works with brands to curate the best sampling mix for their objectives, and measures everything to gain in-depth insight on every sample distributed.
To find out more, or if you have a brief please get in touch at [email protected] or call 07977 148 784.