TOP 3 WAYS TO USE PRODUCT SAMPLING TO DRIVE CONTENT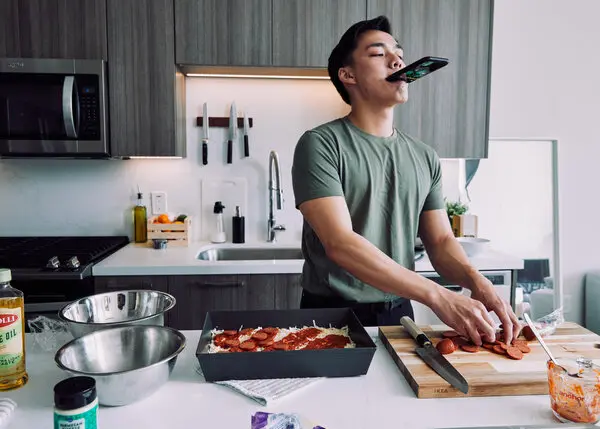 When marketing a brand, there is nothing quite like getting your product into the consumers' hands. As long as your product tastes great – being able to touch, see, smell and taste it cuts through more than any other medium.
Yet in today's digital world the power of recommendation, without the need to try the product yourself, has never been so strong.
Working with others to promote a product isn't new. The industry has been thriving from reviews, word-of-mouth recommendations, and collaborations for decades. A celebrity endorsement of a product can skyrocket sales.
Historically though, this avenue of brand marketing has usually been the preserve of those brands with the means or investment.
However, the rise of TikTok and user generated content (UGC) has seen incredible success stories of smaller and up-and-coming brands.
Modernising Product Sampling
At Flavor, we are determined to modernise product sampling through our Integrated Sampling approach. A key part of this evolution is bringing sampling – and all of its benefits – seamlessly into the digital landscape.
One of the greatest opportunities that this brings, is the ability to combine the powerful engagement created by effective product sampling with the opportunity to broadcast and share that experience authentically through social media channels.
A 2021 study found that products placed on influencer videos can create an uplift in sales by around 12% and, additionally, these sales are more likely to be impulsive. The strongest-performing content is that where the product appears at the highest point of engagement i.e products that appear as close to the start of the video as possible.
Digital Sampling in particular has the ability to take the consumer through the entire purchase funnel, if managed effectively.
So when we use sampling as a tool to drive UGC, we combine the benefits of both; placing your product directly into the hands of your ideal customers so they have that sensory experience which informs buying decisions, and empowers them to create and share content to broadcast brands' exposure + perception.
Below are our top 3 tips to use Product Sampling to drive UGC for food and drink brands….
1. Incentivise to empower UGC
The simplest way to generate UGC is to encourage your customers to share their experiences on social media. This can be as easy as creating a branded hashtag and inviting customers to use it when they post about their visit.
Contests and giveaways are a fun way to encourage UGC and create excitement around your brand. For example, you could run a contest that encourages customers to share photos of their favourite dish or drink for a chance to win a gift card or other prize.
Ttagz are our go-to partner to integrate this into existing sampling campaigns.
2. Create UGC-able assets
TikTok campaigns can help you leverage an in-person event or location as part of a bigger campaign. Everyone with a Tk Tok account is always on the look out for something that will look great on their reel – so make it easy for them!
When putting together your events make sure that the look and feel of it is designed to be beautiful through the lens of social media frames. Production value doesn't have to be expensive – but the more striking, engaging and interactive the more likely that consumers and content creators will use it as a focal point in their photos and videos.
3. Encourage collaboration
To maximise traction it is important to empower creators.
You can do this in a few ways, but engaging and actually briefing micro-influencers to include the product in their content and leave them to design the content works way better than trying to restrict content to fit your brands image.
Authenticity is key, and ultimately what consumers buy into on social channels. So the last thing you want to end up with is videos and posts that appear corporate and overly structured.
Starting with a hashtag such as (#GetReadyWithMe and #WhatIEatInADay) or setting up a challenge with your product at the heart of it (like Oreo Cookie Challenge) allows for a message to stay on track but gives it the chance to build and gain virality through innovation from the creators themselves…
Blog written by Richard Lloyd-Williams, MD at Flavor.
Flavor is an Integrated Sampling Agency
We believe that the only way to create the best possible sampling campaign is to offer every type of sampling channel out there and curate a bespoke mix across Live, In-Home + Digital Sampling. Ultimately we are more targeted, measurable and effective than traditional sampling agencies.
---