How Sampling at Key Life Moments Can Create Long Term Customers
Key Life Moments
Consumer choices are the result of cognitive and motivational consequences. Formed inherently from habits or routines, consumers repeat actions that have rewarding outcomes; i.e they are satisfied and it meets their current need. These routines are developed over a period of time and form part of a person's identity, adapting to their social demands, financial and time resources and personal needs. Additionally, research into consumer behaviour found consumers strive to make decisions quickly and with minimal effort meaning that ultimately… purchasing choices are seldom reflected on. Which is brilliant news for well-known brands that have already 'hooked' their consumers. Yet in an ever-changing, sustainability-friendly, eco world – full of exciting, new start up brands – how can you become the 'routine' for consumers to repeatedly purchase your items?
Current research into Consumer Behaviour Theory reveals that life events are opportune times to create change. It reveals that the preparation phase leading up to the life event (for example having a child, or moving home), and then a short time following the event, are when consumers make decisive changes. This rare and prominent instance is deemed as the 'Window of Opportunity' by psychologists who are exploring ways to impact consumer habits. For example an explorative of 286 new parents found that all parents interviewed, especially mothers, were more likely to buy from healthy and sustainable brands during the period of pregnancy and the first months after childbirth, ultimately leading to changing their food purchases.
However, studies have found that interventions to change behaviour that are based simply on giving information, whilst well-received, does not ultimately change consumer behaviours. The necessary speed and ease of consumer purchasing means that without the specific products being given to the consumer, changes are unlikely to be made. Enter Product Sampling Agencies such as Flavor!
Time is absolutely of the essence for these opportunities though – if consumers do not experience the product at the time of, or within a short time after their life event change, the likelihood to change behaviour dramatically decreases. Our Key Life Moments initiative is an established system to offer a variety of sampling channels to consumers at key moments of most people's lives. Our boxes include relevant products for consumers at the following stages of their lives: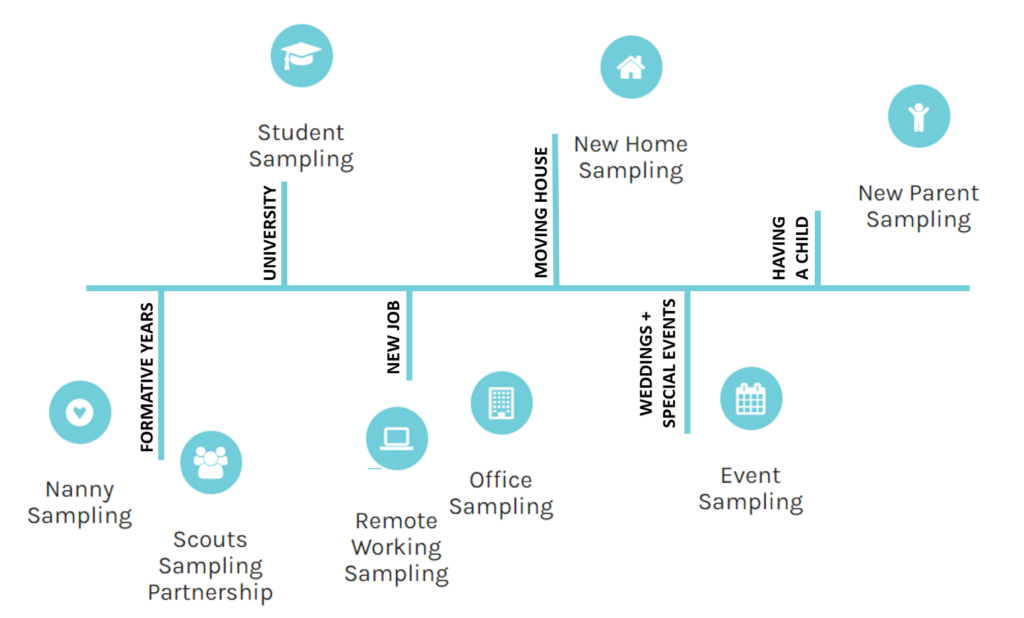 Formative years / growing up
Going to University
New jobs
Buying a house
Weddings and special events
Having a child
These 'Windows of Opportunity' moments allow brands to directly place themselves in the hands of consumers – at a period where consumers are most likely to make changes to their purchase behaviour. Currently the most powerful way to engage consumers is with product samples at these times, leading to consumers purchasing the product (Conversion), repeating this action (Lifetime Customer) and recommending the product (Advocacy).
Get in touch to find out how we can help your brand to meet consumers when they are actively changing their purchasing behaviours or see more about the sampling channels designed to engage consumers at these Key Life Moments here.
---
References:
1. https://www.mdpi.com/2071-1050/11/22/6279/htm
2. https://www.tandfonline.com/doi
3. https://link.springer.com/article/10.1007/s10603-011-9181-6

---
At Flavor, we use multiple sampling channels as part of an integrated sampling approach to curate the perfect mix of sampling techniques to deliver optimal results for every campaign. We look after all sampling elements under one roof to drive efficiencies in targeting, relevance, measurement & ROI…
If you would like to find out more about social sampling or any of our integrated sampling techniques you can get in touch richard@flavorsampling.com + 07977 148784