Remote Working – is it right for your agency?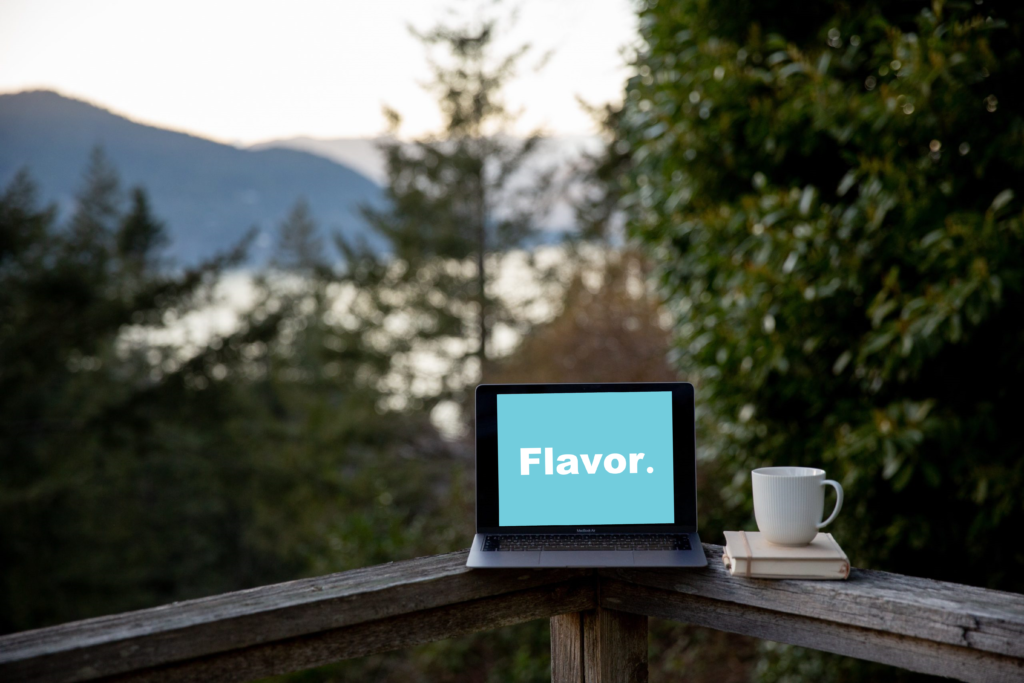 In an industry that is traditionally all about face-to-face engagement, Flavor have tried to challenge traditional perceptions of what product sampling should be – by exploring every possible route for brands to get their products into the hands (and hearts) of eager consumers.
With that in mind, it made sense that we mirrored that mind-set in how the agency functioned as a business as well…
Back in September 2019 (just before the madness happened), we were a new business of just two founders. Being particularly conscious of bulky outgoing costs, starting out as a 100% Remote Working business wasn't that big of a jump.
If you throw in a global pandemic and almost 18 months of enforced lockdown, no one will be surprised to hear that we decided to maintain this approach rather than invest in a trendy Dalston Office space!
As we have grown and developed though (just passing our 2nd year anniversary), we have had the opportunity to reflect on the best way of working, in turn reviewing if a Remote Working Model was right for us as an agency.
Fortunately there have been a plethora of articles + opinion pieces that offered insight into the positives and negatives of Remote Working as a concept and how that translates to an effective, enjoyable and fulfilling workplace.
We investigated these thoroughly, as well as surveying our own team, to gather genuine opinions (you can see some of these in the table below) about what they like and don't like about Remote Working to help us decide the best course and model for our growing agency.
---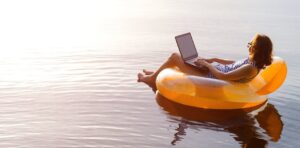 HOW WE MADE OUR DECISION
Taking everything into consideration *Spoiler Alert* we decided that Remote Working was still the best option for us as a business. Below are some of the primary reasons for making this decision:
Offer greater value to clients (as we don't need to pass on bulky operating costs)
Be flexible around our clients' needs
Improve our team's quality of life
Set up to work anywhere
Recruit the best talent without location restrictions
However, this wasn't as straight forward a decision as it may have sounded. After surveying all of our team, there were inherent challenges from running purely a remote working model.
We also fully recognise that our decision would not be right for all companies, as there are so many considerations to manage; from how the company has been run historically, through to employees varied wants + needs.
After going through the process of researching, internal and external discussions, we wanted to outline the key internal conversations that we had, the logic in our thinking, and the solutions that were implemented to get to our decision of remaining 100% Remote Working in the aim that it might help other agencies who are going through a similar decision.
Below are the important questions we asked ourselves…
WHO ARE OUR TEAM, AND WHAT'S IMPORTANT TO THEM?
Our first thought was our current team, as this is who drives our agency, and ultimately who these decisions will affect the most. During lockdown our team grew from two hopeful founders to eight full time members of staff.
Because we recruited this team with a remote working model in mind, the current team are based in locations spread across the country – from Lancashire to the Isle of Wight – with several team members actively taking advantage of the flexibility that remote working offers by setting up in places like Lisbon and Dubai on occasion.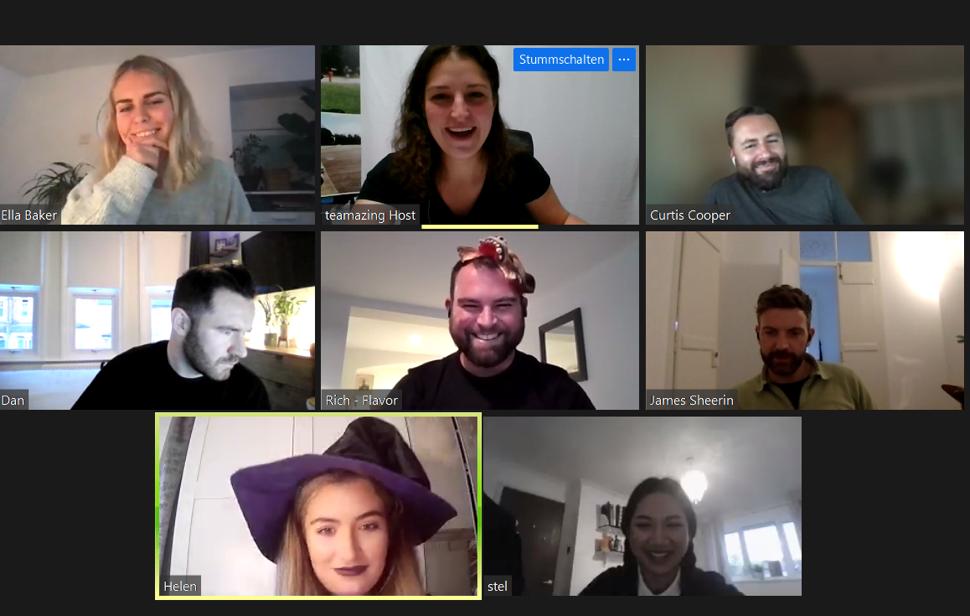 With our team having such varied locations, a full time office that everyone would go to on a daily basis was not really an option – but we still had to be cognisant of the other varying needs of our team.
For instance, the different ages of our team brings about different wants from a workplace. One of the biggest factors for myself when entering into the world of marketing agencies was wanting to be in a cool space with interesting people to bounce off, and go out after work to make the most of London. Although this seems slightly less important to the current generation that are entering into the working world for the first time – their priorities are different to those in their late twenties and thirties…
We are continuing to grow as an agency, and so future recruitment was also a consideration; What makes us attractive to candidates for different levels and roles, where will they want to be working from, what gives us the greatest flexibility, where are the best candidates going to be based?
WHAT ARE THE PROS AND CONS OF REMOTE WORKING?
To genuinely look at what the good and bad things about Remote Working are, we adapted a SWOT analysis – see below. All answers have been collated from survey responses that our existing team completed.
As you can see from the below, there are plenty of positive feelings towards Remote Working with 'Freedom', 'Flexibility', and 'More Time' being the most frequent points fed back.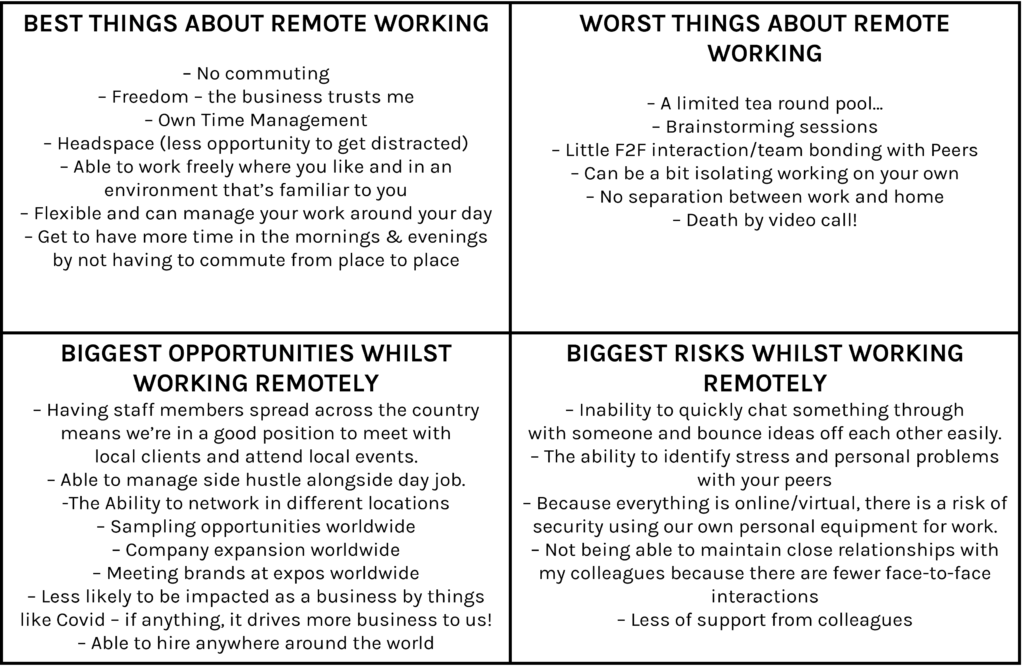 It's also really interesting to see that the team highlighted and valued the opportunities that Remote Working could bring to the business (not just personal) beyond financial savings. As a business owner this is great to see as it means that as individuals, they are bought into a Remote Working Model, and that overall they see it as a positive way of working.
The negatives were fewer in quantity, but consistent in themes – talking about missing out on the benefits like 'seeing colleagues face to face' and 'building genuine relationships' with peers.
No matter the benefits of Remote Working, these inherent shortcomings of the RW model is why so many businesses have reverted back to office space or Hybrid Models (working from home but having an office space that people can come in and work from as well).
We were conscious that these shortcomings have to be proactively addressed to create a positive remote working environment.
IS A HYBRID MODEL THE BEST OF BOTH WORLDS?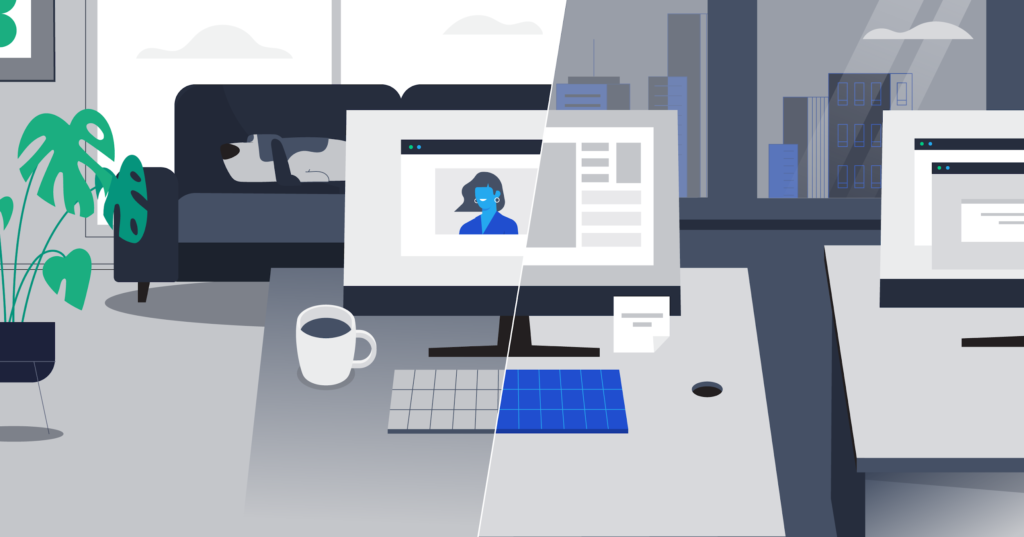 When reviewing the business' working model, we did seriously consider a hybrid model.
There were a lot of businesses actively promoting this way of working (at the time of us researching) as the perfect balance between being able to enjoy home comforts and meeting up with colleagues in the office as well.
As we looked into it, the reality was that it was very difficult to get that balance right. More often than not a hybrid model lead to the following issues:
Lack of direction and clarity around what model you are running
Very little cost savings – as at least a semi-permanent office space is still needed
Individuals frequently end up working in an empty office
Lack of consistency and freedom for the team
Can lead to frustrations from employees with different preferences of workplace
Minimises opportunity to recruit outside of office location
If we had an existing office space, proven examples of an in-office culture, or were more advanced in terms of our growth, this would have been a more difficult decision. In Flavor's current set up though, Hybrid wasn't a good fit for our needs.
HOW MOTIVATED ARE THE TEAM?
We saw from the comments above, that we are fortunate enough to have a motivated and invested team. Overall, Remote Working is largely seen as a positive aspect of the company.
In the 2 years Flavor has been running, we have been very conscious of managing and maintaining this motivation. The below is an overview of the values that we wanted to be at the core of our agency, and how we have tried to make this happen to date…
Trust vs. Control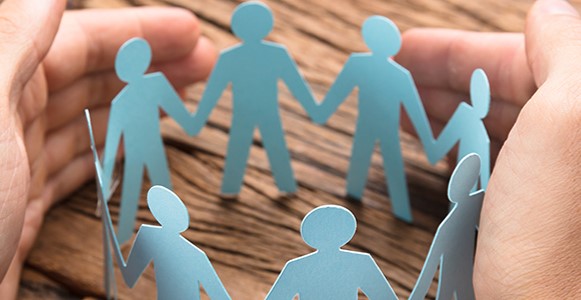 In my opinion, Trust is THE most important factor of successfully running a business, and in particular with a Remote Working model.
If there is too much focus on control, micro-management will take over, which will lead to meetings for meetings sake, doubling up on jobs and an unmotivated team.
Our trust starts in our recruitment, and belief in ourselves that we are bringing the right people into the team. If you have this then you can feel confident enough to empower the team as competent and capable individuals that have the business' and each other's best interest at heart.
The trust we have in our team is embodied by us actively encouraging our team to have side hustles whilst working for Flavor. We trust that as capable and honest individuals they can manage their own time and accept that fulfilment in life often means creating something for yourself that you control wholly.
Some of the side hustles of our team include property businesses, cake making, shoe design, and an eco-cosmetic brand.
Keep Communication Flowing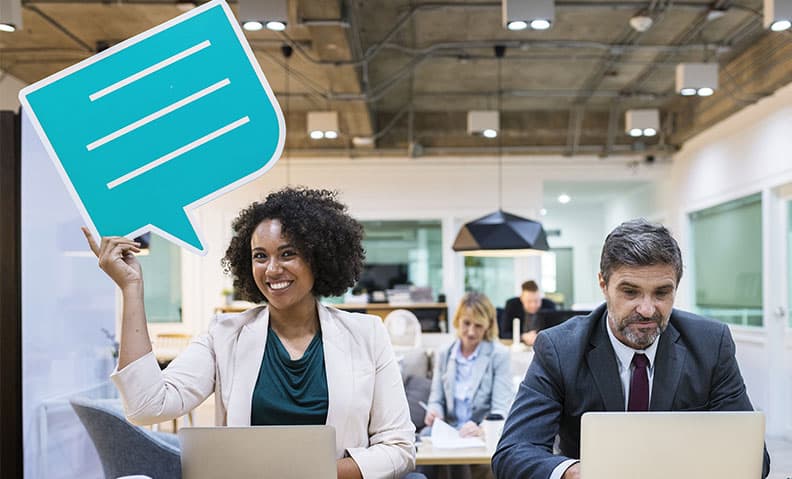 Making communication between each other easy and unrestrictive – an extension of how we would normally communicate.
In the early days of the business we looked at a variety of workflow systems and (Slack-like) apps to manage and control how communication and projects were managed. The more we built a team and worked out how we liked to work, the more we realised that following through with the trust we had in the team, and keeping communication simple was how we worked best.
To help with this communication mantra, we developed a simple 6 point ethos.
Use mediums you use in life anyway, how you would normally use them – Phone, Email, WhatsApp, video calls – so there aren't any barriers in communication
If you're struggling to write that email, call instead – chatting something through can solve a problem, or build an idea infinitely quicker than an email anyway.
Trust + support your colleagues – everyone is awesome!
Keep project meetings separate – to keep it focused, optimise time, and avoid confusion.
Weekly all company meetings – so everyone can see what's going on.
Weekly management meetings – to make sure we are looking at the big picture.
Appreciation + Compassion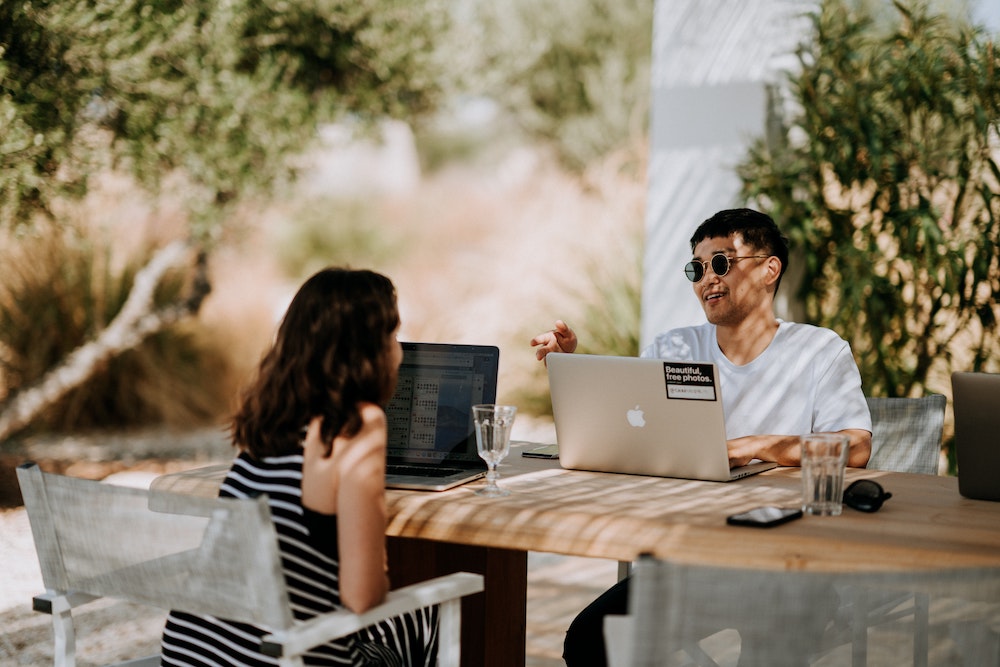 With all of the team having worked in a variety of types of working environments, we have learnt just as much from the negatives in those workplaces as we did the positives.
Because of this, when we were setting up the agency, we were determined to build an environment where the successes were celebrated and the mistakes were supported. We aim to follow the below points to maintain this type of environment.
Give constant opportunity for celebration and progression – rewarding doing a job to a high standard just as much as going above and beyond.
Mistakes are part of the learning process, and should be shared without fear of reprimand.
We're in a non-competitive environment designed to encourage + support of each other.
If we don't sweat the small stuff we can work together to make the big stuff amazing!
We all live by these values and ways of working on a day-to-day basis, and try to pass them on to new recruits through training and our behaviour as a team.
---
WHAT WE LEARNT, AND HOW WE MOVED FORWARD
Overall Remote Working is both beneficial to us as a business (fits with our company values, cost efficient + flexible), and appreciated by our team (work/life balance + freedom).
Trust is at the centre of making this model work – but there are still innate characteristics of Remote Working that can develop into major issues if left unmanaged.
Quick fixes aren't going to plaster over the issues around personal contact and peer relationships.
So, alongside our mantra of putting trust at the centre of our working environment and trying to create an environment where people are open + honest – the learnings from listening to what is important to our team has led us to implement and integrate a number of policies focused on making our Remote Working Model as beneficial as possible.
All Policies are designed to optimise the benefits of remote working, mitigate the negatives, and ultimately build a healthy and happy business.
Below you can see policies implemented to date, why they have been chosen, and how they have been designed to benefit our team and the agency as a whole…
So far, these policies have gone down really positively with the team, with our first quarterly meet up scheduled for December – we have some big Christmassy hopes for this one!!
We will continue to monitor and adapt these policies to ensure that it fits around our core mantra of trust, and continues to build a Remote Working Business that we can all be proud of!
---
At Flavor, we use multiple sampling channels as part of an integrated sampling approach to curate the perfect mix of sampling techniques to deliver optimal results for every campaign. We look after all sampling elements under one roof to drive efficiencies in targeting, relevance, measurement & ROI…
If you would like to find out more about social sampling or any of our integrated sampling techniques you can get in touch [email protected] + 07977 148784