TOP 5 WAYS TO USE PRODUCT SAMPLING TO DRIVE CONTENT ON TIK TOK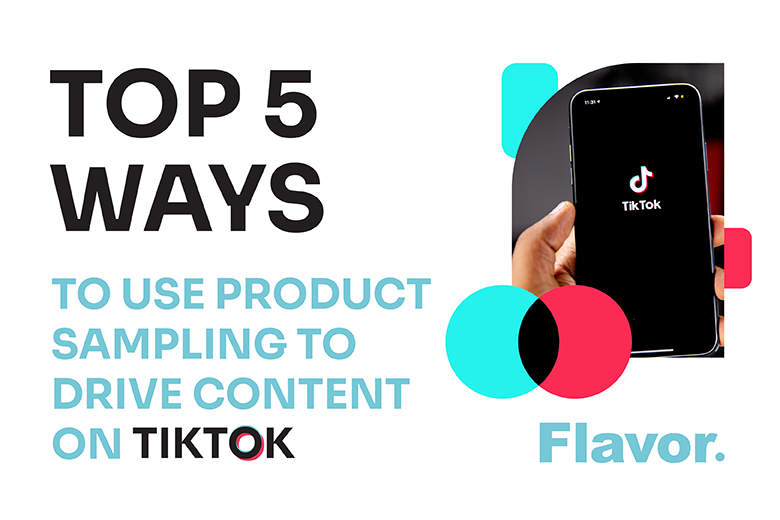 When marketing a brand, there is nothing quite like getting your product into the consumers' hands. As long as your product tastes great – being able to touch, see, smell and taste it cuts through more than any other medium.

Yet in today's digital world the power of recommendation, without the need to try the product yourself, has never been so strong.

Working with others to promote a product isn't new. The industry has been thriving from reviews, word-of-mouth recommendations, and collaborations for decades. A celebrity endorsement of a product can
skyrocket sales.
Historically though, this avenue of brand marketing has usually been the preserve of those brands with the means or investment.

However, the rise of TikTok and user generated content (UGC) has seen incredible success stories of smaller and up-and-coming brands.

At Flavor, we are determined to modernise product sampling through our Integrated Sampling approach. A key part of this evolution is bringing sampling – and all of its benefits – seamlessly into the digital landscape.

One of the greatest opportunities that this brings, is the ability to combine the powerful engagement created by effective product sampling with the opportunity to broadcast and share that experience authentically through social media channels.

In this paper, we will take you through five of the most effective ways that you can leverage product sampling to drive UGC on TikTok and other key social media channels – to help you devise your own strategies. And while TikTok is the fastest-growing and most effective social media network for
marketing right now, the insight and tips in this document can be used across all social media platforms.
---
Blog written by Richard Lloyd-Williams, MD at Flavor.
Flavor is an Integrated Sampling Agency
We believe that the only way to create the best possible sampling campaign is to offer every type of sampling channel out there and curate a bespoke mix across Live, In-Home + Digital Sampling. Ultimately we are more targeted, measurable and effective than traditional sampling agencies.
---